Anthony F. Barbieri
Officer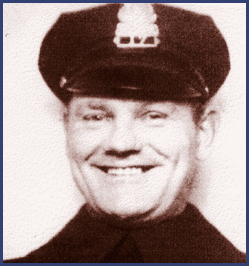 Torrington
End of Watch: 2/20/1950
Download PDF | Listen Now | Leave a Tribute
A Torrington police officer for more than 18 years, Officer Barbieri was on traffic duty when he was approached by a young man in an obviously diminished mental state. After struggling with the subject and taking him into custody, Officer Barbieri died suddenly.
On February 20, 1950, Officer Anthony Barbieri of the Torrington Police Department was assigned to traffic duty on East Main Street near Center Street. At about 12:50 PM Officer Barbieri was approached by a young man who was in obvious diminished mental state. Officer William Oliver came to the aid of Officer Barbieri and they took the individual into custody. The subject was taken to police headquarters after a struggle, both at the scene and at headquarters.
While at the Torrington Police Department Headquarters, Officer Barbieri sat down in a chair and passed out. All attempts to revive him by his fellow police officers and fire department personnel were in vain.
At the time of his sudden death, Officer Barbieri was 48 years of age, and been a Torrington Police Officer for over 18 years, being appointed in 1932. He was a distinguished marksman having been part of the Torrington Police Pistol teams. He left behind his wife, a son and two daughters.