Police Memorial License Plates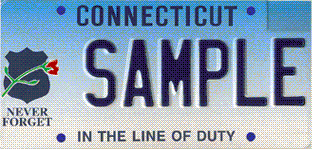 The Police Memorial – In the Line of Duty license plate is available to all Connecticut citizens with vehicles currently registered in Connecticut.
The Police Memorial license plate options below are available in passenger, combination, commercial, camper, camp trailer and handicapped registration types.
Off-the-shelf license plates
Remake of a current marker plates
New vanity plates
Special Reserved Passenger Series
The first thousand plates in the "passenger" series are reserved for the spouses, parents, and children of state troopers and municipal police officers killed in the line of duty.
To request a special reserved passenger series plate, call Thomas Flaherty at (203) 238-6505.