John E. Palmatier
Officer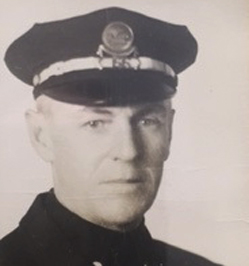 Waterbury
End of Watch: 7/20/1941
Download PDF | Listen Now | Leave a Tribute
Officer Palmatier was directing heavy traffic after the American Legion's national convention. He was struck by a vehicle and thrown twenty feet, and died from his injuries within the hour.
On Sunday July 20 1941, Officer John Palmatier, age 60, was directing traffic at the intersection of West Main Street and Judd Street. At 9:30 p.m., a vehicle being driven by Wilby High School teacher Maurice Griffin, age 30, struck officer Palmatier, throwing the Officer twenty feet. Officer Palmatier was transported to Waterbury Hospital but died from his injuries within an hour.
Traffic had been heavy that night due to the fact that the American Legion was holding its national convention in Waterbury and there had been a fireworks display at Municipal Stadium that night. Officer Palmatier, who had the night off, was called in to work traffic due to the convention.